Player Profile
Nickname: Buck
Career: 1934-1950
Position: 1B
Teams: Baltimore Stars, Brooklyn Royal Giants, Homestead Grays, Portsmouth Firefighters
Bats: Right Throws: Right
Height: 5'10 Weight: 185 lb.
Born: September 8, 1907 in Rocky Mount, NC
Died: November 27, 1997 in Rocky Mount, NC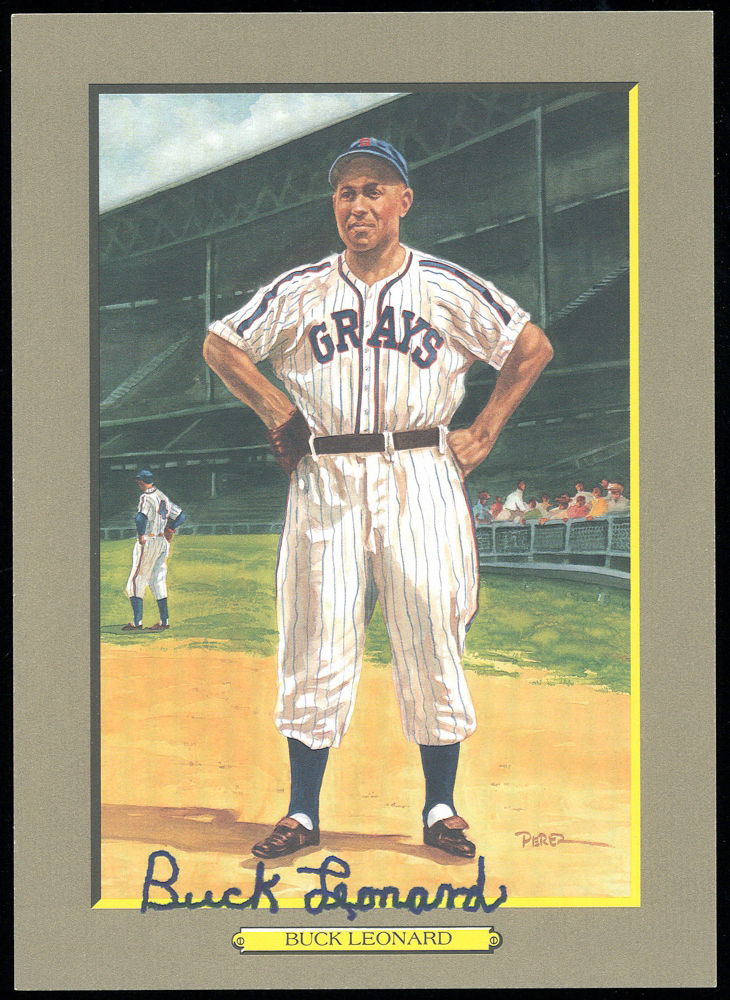 Walter "Buck" Leonard was one of the best pure hitters to play in the Negro Leagues. Leonard, a left-handed hitter, was a semi professional player for several years in North Carolina before losing his job with a railroad and deciding to pursue full-time professional baseball in 1933. That year he played with the Portsmouth Firefighters, the Baltimore Stars, and the Brooklyn Royal Giants. He signed with the Homestead Grays in 1934 and was a key part of the Homestead Grays dynasty of the 1930s and 1940s.
Beginning in 1942 when Leonard hit 42 homeruns, the Grays advanced to four consecutive Negro World Series, winning in 1943 and 1944. The smooth and consistent first baseman spent his entire seventeen year career with the Grays. This is the longest term of service for a player with one team in Negro League history, with also a league-record 11 East-West All-Star Games. After Homestead disbanded in 1950, Leonard played five more years in Mexico and also with Portsmouth until 1955. At the age of 45 with the color barrier broken, Buck was offered a major league contract but turned it down before retiring at 48 years old. League statistics have Leonard batting .320 for his career with a .519 slugging percentage over 1,675 plate appearances.
Leonard wasn't able to get a high school diploma until the age of 52, because his hometown didn't have a high school that allowed education for African-Americans. Leonard was elected to the Hall of Fame in 1971, the year after Satchel Paige became the first Negro Leaguer elected. Always an advocate for civil rights, he was an ambassador for Negro League baseball until his death on Nov. 27, 1997 at age 90. In 1999, the Sporting News ranked the slugger No. 47 on its list of the 100 Greatest Baseball Players. He was one of only five men on the list who played most of, or their entire career in the Negro leagues. Leonard was also honored as a finalist for the Major League Baseball All-Century Team.
Read More:
Leonard, Buck | Baseball Hall of Fame