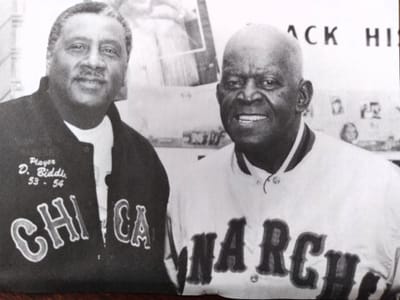 Welcome!
The Yesterday's Negro League Baseball Players Foundation (YNLBP) was established in 1996 by founders Sherwood Brewer and Dennis Biddle. Brewer was an all-star second baseman and teammate of Jackie Robinson in the Negro Leagues who played for the Kansas City Monarchs, Indianapolis Clowns, and the New York Cubans.(Career 1948-57) Biddle was the pitcher for the Chicago American Giants (1953-54). Brewer and Biddle founded Yesterday's Negro League Baseball Players Foundation, in their commitment to making sure history remembers the players and they remember each other. For over 25 years, YNLBP and the Milwaukee Brewers have hosted an annual Negro League Tribute game where along with Holy Redeemer COGIC, have inducted 71 Negro league players into the Wall of Fame. YNLBP was organized by and for the players of Negro League Baseball, in devotion to the preservation, dedication, and education of its history.
See YNLBP Wall of Fame Inductee Timeline...
Click the Link to sign a Petition to...
Save Our Legacy
"Mr. Biddle's experiences and lessons are more valuable today than ever before. Through his lecturing, teaching, and outreach, Mr. Biddle is able to bring us back to a time and place when baseball was played for honor and glory." Tom Barrett, House of Representatives. Tuesday, February 27, 1996.
Find us on Facebook!