Player Profile
Nickname: Double Duty
Career: 1928-1950
Position: P, C
Teams: (1928-1938)Detroit Stars, St. Louis Stars, Homestead Grays, Pittsburgh Crawfords, Columbus Blue Birds, Cleveland Giants, New York Black Yankees
Manager: (1934-1950)Bismarck North Dakota, Chicago American Giants, Brooklyn Eagles, Cincinnati Tigers, Memphis Red Sox, Mexican League, Birmingham Black Barons, Kansas City Monarchs, Harlem Globetrotters, Louisville Buckeyes
Bats: Right Throws: Right
Height: 5'10 Weight: 190 lb.
Born: July 7, 1902 in Mobile, Alabama
Died: August 11, 2005 in Chicago, Illinois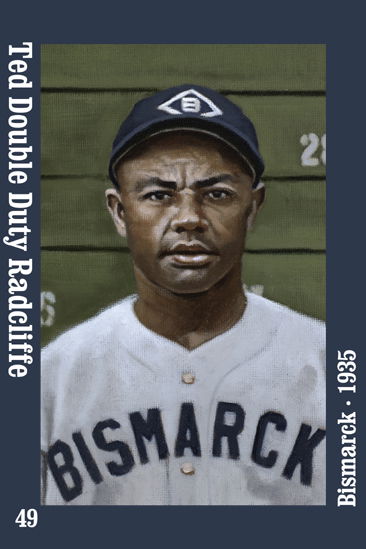 Radcliffe was born on July 7, 1902, in Mobile, Alabama to a big family. Having eight other siblings including a brother, Alex who also played in the Negro Leagues. Radcliffe took an early interest in baseball and grew up playing with legendary pitcher Satchel Paige. He learned to control his pitches by tossing a ball into a bucket. A team in Montgomery, Alabama, tried to recruit Radcliffe when he was 15 or 16, but his father rejected the potential deal, saying his son was too young. When he was 17, Radcliffe and one of his brothers hopped a freight train to Chicago, Illinois, where Radcliffe made a living laboring at brickyards and shooting dice on the side.
The Radcliffe family lived just four blocks from the field where the Negro League American Giants played, and his aunt who lived next door to the ballpark. He and his brothers snuck into the park regularly to watch games and eventually the team asked him to pitch batting practice, rewarding him with a soft drink or lemonade. Radcliffe often played baseball at a nearby playground, where one day he pitched against the semi-professional Illinois Giants. He struck out so many pro players, the manager invited him to join the team, making $50 for every fifteen games.
Radcliffe stayed with the Giants through 1927, until he made his Negro League debut with the Detroit Stars in 1928, serving as both pitcher and catcher. He left the team in 1929 after the manager refused his request for a raise and he returned to another Chicago team, the Union Giants. In 1930, the St. Louis Stars traded three players for Radcliffe, but he only stayed with the team one year, during which they won the pennant however. Radcliffe next joined hometown friend Satchel Paige, on the better-paying Pittsburgh Crawfords in 1932, where he hit the longest home run of his career.
In 1934, Radcliffe moved to Jamestown, North Dakota, to manage a white team that traveled throughout Canada playing major league all-stars. In 1936, Radcliffe managed the Claybrook Tigers of Memphis, Tennessee, then managed the Memphis Red Sox from 1937 to 1942. Radcliffe returned to Chicago in 1943 to manage the pennant-winning American Giants. That year, he was named the Most Valuable Player in the Negro American League. He continued managing in Chicago until 1950, his last year in the Negro Leagues.
In 1951 he managed a pennant-winning white team in Winnipeg and, at the end of that season, Radcliffe retired. By the end of his baseball career, he had played in six East-West all-star games, three times as a pitcher and three as a catcher. In the 1944 all-star game at Chicago's Comiskey Park, he hit a game-winning home run. He exited the Negro Leagues with a
.282 batting average and a 53-33 pitching record over his decorated career. From 1962 to 1966, he worked as a scout for the Cleveland Indians. He would face difficulties in later life as well, out living his wife of 58 years, Alberta, who died in 1992.
Radcliffe was honored along with 14 other Negro League legends at Washington D.C.'s RFK stadium in May 2005. He threw the ceremonial first pitch at the time, Radcliffe was the oldest living professional baseball player alive. At age 103, he died shortly after on August 11, 2005, in Chicago. Ted "Double Duty" Radcliffe excelled as a pitcher and catcher for numerous Negro League baseball teams. Radcliffe played ball professionally for 32 years, managing teams as well for 22 of them.
Radcliffe, Ted | Encyclopedia.com