Player Profile
Nickname: Bud
Career: 1877-1899
Positions: 2B, P, SS, 3B, C,
Manager:1901
Teams: Page Fence Giants (1895), Cuban Giants (1898), Smoky City Giants (1901), All-American Black Tourists (1903), Kansas City Stars (1904)
Bats: Right Throws: Right
Height: 5' 7'' Weight: 155
Born: March 16, 1858, Fort Plain, New York
Died: February 26, 1913, Frankfurt, New York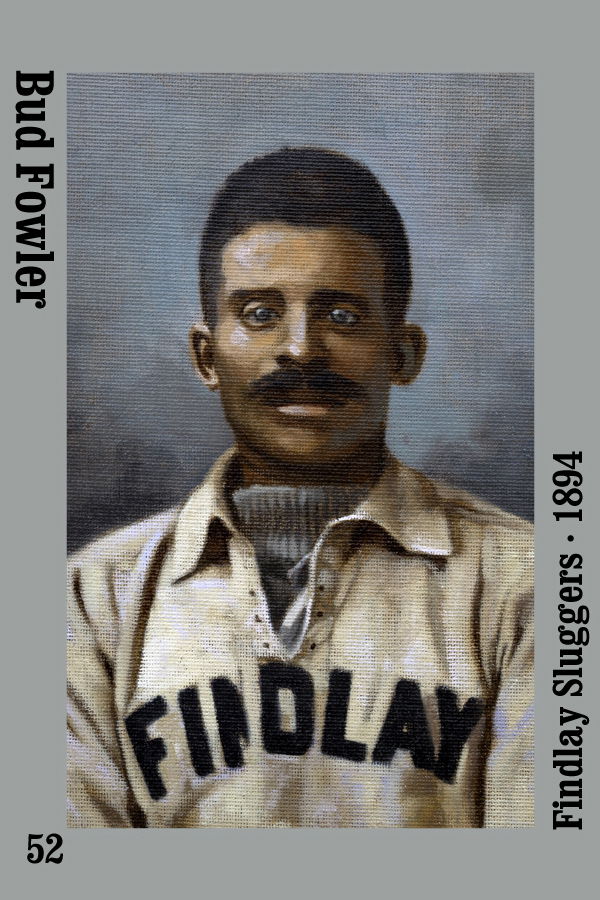 John Fowler was one of the true pioneers of American baseball, as one of the first professional black ballplayers. He began his career in 1878, one year after the first minor league was organized. John W. Jackson grew up in Cooperstown, New York, where he learned the game of baseball on the sandlots of the region. For some undiscovered reason he took the name of Bud Fowler when he began playing professionally.
He began his career as a pitcher, for Lynn Live Oaks of the International Association, and over the next few seasons he played with Worchester of the New England Association (1878), Malden of the Eastern Massachusetts League (1879), Guelph, Ontario (1881), and the Petrolia Imperials (1881). After 1884 he finished with a 7-8 record, and he stopped pitching and became an everyday player, with second base as his preferred position. He continued to play in white leagues on numerous teams from 1885 up until 1887. This was due to the early days of baseball having no official color line, so he played in organized baseball with white ball clubs until the color line became established. So in 1887 he was dropped from Binghamton of the International League and was forbidden to sign with another International League team.
In the fall of 1894, the no negro players social situation led to organization of the Page Fence Giants an all-black team. The Fence Giants began playing the following spring with Fowler as the playing manager, their season was a success ending with a 118-36 record and Fowler hitting .316 for the year. Fowler had left the team before the end of the next season to play with the Lansing team of the Michigan State League and hit .331 while splitting his time between second and third base. Year 1899 would be his tenth and last season in organized baseball, a record until broken by Jackie Robinson in his last season with the Brooklyn Dodgers.
After retiring he became more inclined toward organizing and managing various black ball clubs. These teams included the Smoky City Giants (1901), the All-American Black Tourists (1903), and the Kansas City Stars (1904), and although now in his forties, Fowler continued to play himself except with the latter team. In 1909, with Fowler in failing health, several attempts were made to play a benefit game, yet the game never materialized. Less than three years later, Bud died of pernicious anemia after an extended illness, just eighteen days short of his fifty-fifth birthday.
Read More:
Negro Leagues Baseball eMuseum: Personal Profiles: John W. "Bud" Fowler (nlbemuseum.com)
James A. Riley, The Biographical Encyclopedia of the Negro Baseball Leagues, New York: Carroll & Graf Publishers, Inc., 1994.