Player Profile
Nickname: Mule
Career: 1946-1952
Position: Of,3B
Teams: Chicago American Giants, South Texas Laredo Apaches
Bats: Right , Throws: Right
Height: 6' 3", Weight: 228 lb.
Born: August 11, 1922 in San Antonio, TX USA
Died: May 24, 2013 in San Antonio, TX USA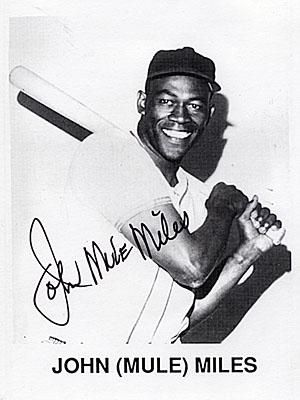 John "Mule" Miles was a member of the Tuskegee Airmen and a Negro American League baseball player. Manager "Candy" Jim Taylor nicknamed him "Mule", because he hit the ball as hard "as a mule kicks." He would first serve with the Airmen in World War II starting in 1942 for a three-year time period. Then returned to San Antonio after being discharged to work as an aircraft mechanic in 1945. In 1946 John "Mule" Miles Jr. would play for the Chicago American Giants for three seasons, hitting .154 as a starting outfielder. Miles moved to third base in 1947 and was legendary for hitting 11 home runs in 11 straight games. After becoming a back-up Miles left the Negro Leagues at the end of the 1948 season to return to his mechanic job. This is until the lure of professional baseball drove him to try out for the Laredo Apaches of the South Texas League in 1952. When he joined the team, he broke their league's color barrier while batting .281 in limited action. At the age of 30, Miles would again return home to his job as an aircraft mechanic that he kept until his 1971 retirement. At the age of 90, Miles passed away Friday May 24, 2013, at his San Antonio home.
Read More:
John "Mule" Miles. (n.d.). https://www.baseball-reference.com/bullpen/John_"Mule"_Miles
John 'Mule' Miles, Negro League star, https://www.baseballhappenings.net/2017/09/john-mule-miles-negro-league-star-dies.html