Player Profile
Positions: 2B, 3B, 1B
Career: 1945-1957
Teams: Kansas City Monarchs, Brooklyn Dodgers
Bats: Right Throws: Right
Height: 5'11 Weight: 195lb
Born: January 31, 1919, Cairo, GA
Died: October 24, 1972, Stamford, CT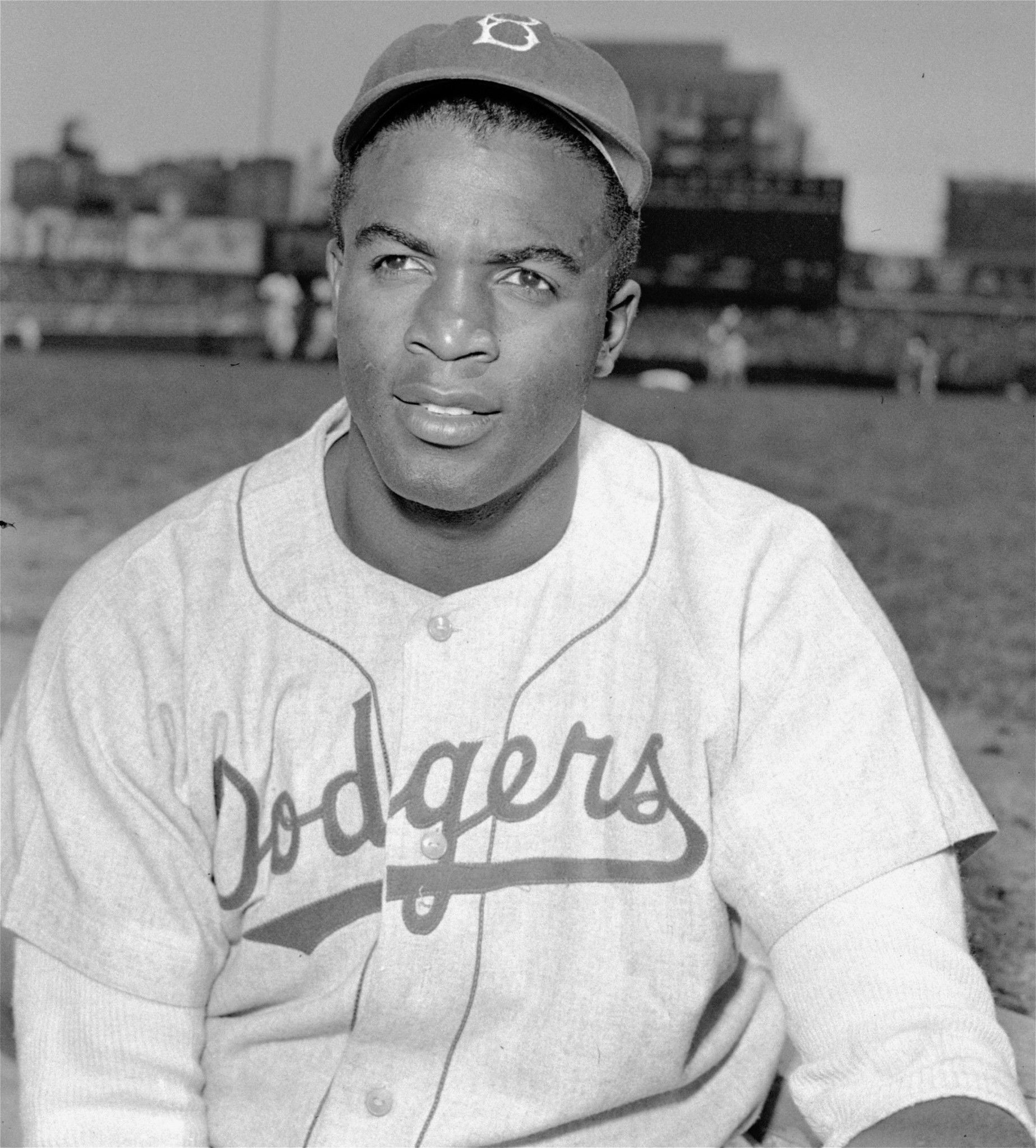 At UCLA, Jackie became the first athlete to win varsity letters in four sports: baseball, basketball, football and track. In 1941 he was named to the All-American football team, however financial difficulties forced him to leave college and he eventually decided to enlist in the U.S. Army. Two years in the army, and Jackie had progressed to second lieutenant, but his army career was cut short due to an incidents of racial discrimination. Jackie would then leave the Army with an honorable discharge.
In 1945, Jackie played one season in the Negro Baseball League, traveling all over the Midwest with the Kansas City Monarchs. Robinson led that league in batting average in 1946 and was brought up to play for Brooklyn in 1947, being an immediate success on the field. At the end of Robinson's rookie season with the Brooklyn Dodgers, he had become National League Rookie of the Year, leading the National League in stolen bases with 12 homers to assist. He would top that in 1949, when winning the batting championship with a .342 average and was voted the league's Most Valuable Player. After retiring from baseball early in 1957, Robinson engaged in business and in civil rights activism. As a result of his great success, Jackie was eventually inducted into the Baseball Hall of Fame in 1962, becoming the first Black person in the Baseball Hall Of Fame.
When Jackie joined the Brooklyn Dodgers ,the Major Leagues had not had an African-American player since 1889, when baseball became segregated. He pioneered the integration of professional athletics in America, by breaking the color barrier in baseball, the nation's preeminent sport, he courageously challenged the deeply rooted custom of racial segregation in both the North and the South. He was also a spokesperson for the NAACP and made appearances with Martin Luther King Jr.
His autobiography, I Never Had It Made, was published in 1972, and he died shortly after on October 24th. In 1984 Robinson was posthumously awarded the Presidential Medal of Freedom, the highest honor for an American civilian. In April 1997, on the 50th anniversary of the breaking of the color bar in baseball.
Read More:
Biography - The Official Licensing Website of Jackie Robinson. (n.d.). https://www.jackierobinson.com/biography/
Robinson. (2020, October 20). https://www.britannica.com/biography/Jackie-Robinson