Player Profile
Nickname: Fleet
Career: 1883-1889
Positions: C, CF, 1B
Teams: Minor leagues (1883, 1885-1889), Major leagues (1884)
Bats: Right Throws: Right
Born: October 7, 1857, Mt. Pleasant, Ohio
Died: May 11, 1924, Steubenville, Ohio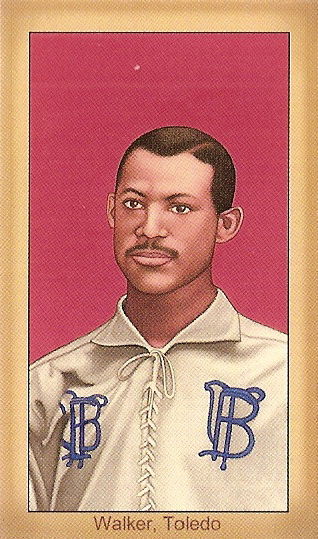 Moses "Fleetwood" Walker, was the first African American to play major league baseball in the nineteenth century. Fleet was born October 7, 1857, in Mount Pleasant, Ohio at a waystation on the underground railway for fugitive slaves. His parents moved to Steubenville, Ohio, where he attended integrated schools and played on integrated baseball teams.
Tall, slender, handsome, and intelligent, Walker was admitted to Oberlin College for the fall 1878 semester. In 1881, he played in all five of Oberlin's varsity season opener baseball games, before leaving to play for the University of Michigan. In July 1882, Walker married Bella Taylor and was able to earn money as a catcher to support his now wife and three children.
From August 1882 to August 1883, Fleetwood Walker played for the first Cleveland, then Pennsylvania and lastly Toledo's minor league teams. Before the Toledo Blue Stockings moved from the minor to the major league level when they joined the American Association. Between May 1 and September 4, Walker played forty-two games for Toledo batting .263 for the season. Two months after he was joined by his brother Weldy Walker, who joined the team as a replacement outfielder for an injured player. After Walker played his last game for Toledo, no other African American would play in major leagues until Jackie Robinson years later in 1947. In 1887 he played with Newark, New Jersey in the International League, where he hit .263 and stole 36 bases for the season. While in the minors Walker had stints with Cleveland, New York as well up until 1889.
A few years after walking away from baseball Walker experienced some legal issues. In April of 1892 a group of white men attack him and Walker would fatally stabbed one of them and was charged with second-degree murder. Walker pleaded self-defense and was acquitted, however in September 1898 he was charged by postal inspectors with mail robbery. Walker was found guilty and sentenced to a year in jail, the time spent behind bars gave him an opportunity to reflect on the world around him.
Post baseball Walker pursued business opportunities with his brother Weldy. Their ventures included an entertainment center in Ohio that offered motion pictures, plays, opera and vaudeville. He patented inventions that facilitated the loading of film reels by his projectionists at a time when the movie industry was in its infancy. In 1902, Moses and Weldy edited a short-lived newspaper "The Equator," which focused on racial matters. In 1908, Moses wrote and published a piece titled "Our Home Colony: A Treatise on the Past, Present and Future of the Negro Race in America."
At age 66 Walker died of pneumonia on May 11, 1924, in Cleveland, he was working as a clerk in a billiard parlor. He outlived his first wife, Arabella, with whom he had three children, and his second wife, Ednah, both having been his classmates at Oberlin. He was buried in an unmarked grave at Union Cemetery in Steubenville. Weldy, who died in 1937, was buried alongside him shortly after.
Read More:
Essington, A. (2019, March 05). Moses Fleetwood Walker. https://www.blackpast.org/african-american-history/walker-moses-fleetwood-1857-1924/
Lockehardy. (2019, April 10). Moses "Fleet" Walker: The First African-American to play Major League Baseball. https://thetinyactivist.com/2019/04/10/moses-fleet-walker-the-first-african-american-to-play-major-league-baseball/